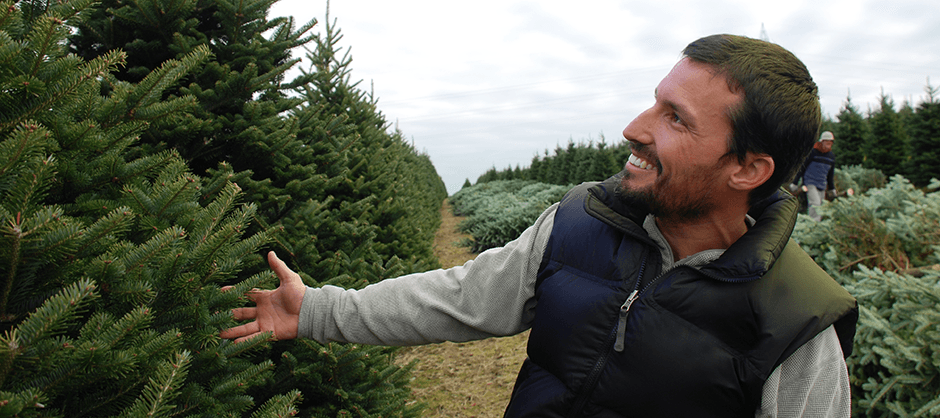 Caring For Your Tree
Christmas trees and wreaths are perishable and fragile.
Please read carefully the real Christmas tree care instructions label that is included with the tree and do not hesitate to let us know if there are any queries.

Here are some useful tips that will help you care for your Christmas tree
If your tree has been delivered but you have not yet set up the area where it will stand, a good place to store your tree is outside in a cool place, protected from the wind and sun. This will help it to retain its moisture.
If the tree has to be stored for several days, make a straight cut about an inch from the base of the tree. This will open the stem and help with water absorption. The tree should be placed upright in a container of water. Be aware that a tree will soak up a lot of water, be sure to check its water supply on a daily basis.
When you are ready to install the tree inside, make another straight cut about an inch from the previous one to ensure maximum water absorption. Use a tree stand that can hold plenty of water. A 1 U.S. gallon stand is recommended as trees are extremely thirsty.
Make sure the water supply of your tree never reaches lower than the bottom of the tree. In that case, a seal would form, preventing the absorption of water and another fresh cut would be necessary to solve this problem.
Avoid all sources of heat. Your tree should be placed away from radiators, fireplaces and other sources of heat. Avoid leaving the tree lights turned on when you leave or when you go to bed.
For your safety, do not use combustible decorations. Also, check all electrical cords and decorations; DO NOT use them if they have worn or frayed cords. Even if you may have heard of the practice back in the day, you must NEVER attempt to put lit candles on a Christmas tree.

By following these easy tips, your Christmas tree should maintain its freshness for approximately 3 weeks, providing you with that fresh aromatic scent of the forest throughout your home over the holidays.