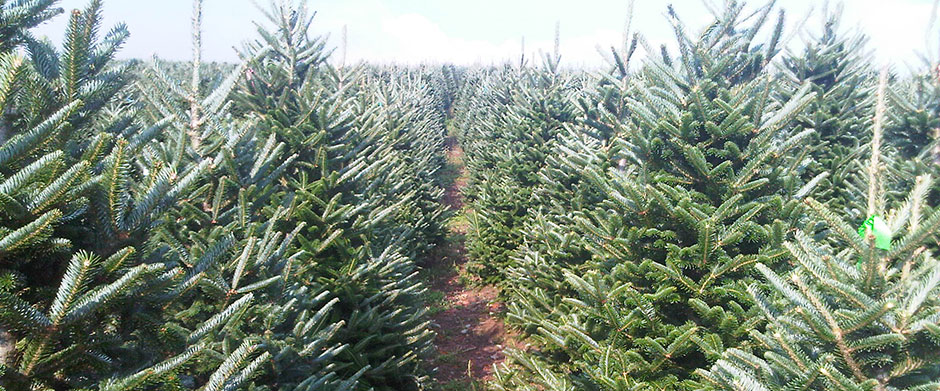 Plantations BL Christmas trees produces heavy density Fraser fir trees. Each little transplant is planted in the field, grown, fertilized and hand sheared with special care in our plantations; growing the perfect tree is and has been our family's expertise for many years!
Fraser fir Christmas trees provide your home with a pleasant aroma and soft needles unlike the needles of other Christmas trees. Many people prefer their soft needles and strong, straight branches that can support heavier ornaments, making it a pleasant Christmas tree to decorate.
The combination of heavy density foliage, dark blue-green color, superior needle retention and excellent shipping characteristics has made the Fraser fir one of the most popular Christmas trees in North America and a favored choice for the high-end Christmas tree market.
Fraser fir, Abies Fraseri, is a high-altitude tree, closely related to the Balsam fir.It is even suggested that the two species were once a single species. It can grow to between 30 and 50 feet in high elevations; from 3000 to over 6000 feet. Its premium seed comes from a restricted native range in higher locations of the Appalachian Mountains; the only native habitat of Fraser fir Christmas trees in the world. The Fraser fir was named for John Fraser (1750-1811), a Scot botanist who explored the Appalachian Mountains in the late 18th century.

Countries – Regions Delivered
The Balsam Fir and Fraser Fir are delivered in the following regions and countries.
If your region or country is not listed below, we invite you to contact us, we are always open to develop new business opportunities.
United States
Alabama
Arkansas
Connecticut
DC
Delaware
Florida
Georgia
Illinois
Indiana
Iowa
Kentucky
Louisiana
Maine
Maryland
Massachusetts
Michigan
Minnesota
Mississippi
Missouri
New Hampshire
New Jersey
New York
North Carolina
Ohio
Rhodes Island
South Carolina
Tennessee
Texas
Vermont
Virgina
West Virgina
Wisconsin
Canada
Alberta
British Columbia
Manitoba
New Brunswick
Newfoundland and Labrador
Nova Scotia
Ontario
Prince edward island
Quebec
Saskatchewan
Caribbean
Anguilla
Antigua and Barbuda
Aruba
Bahamas
Barbados
British Virgin Island
Cayman Islands
Dominican Republic
Jamaica
Martinique
Netherlands Antilles
Puerto Rico
Saint Kitts and Nevis
Turks and Caicos Islands
U.S. Virgin Islands
Countries
Abu Dhabi
Brazil
Dubaï
Hong Kong
Japan
Mexico
Russia
Shangaï
Singapore
UAE
Venezuela