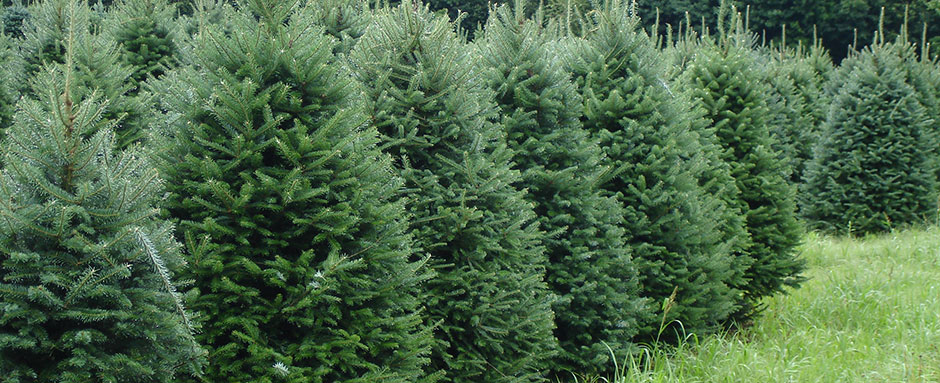 UNIQUE
Here at Plantations BL Christmas Trees, we have developed through the years, a very unique Balsam fir Christmas tree. Its double needle pattern as well as an ameliorated needle retention, it is very much appreciated by our customers. Our family is entirely dedicated to producing and harvesting only the freshest and finest of sheared Balsam fir Christmas trees available in North America.
The Balsam fir tree, Abies Balsamea, is the most cold-hardy and aromatic of all firs. It normally grows to a maximum height of 70 feet and can live at sea levels up to 6,000 feet. One of America's most popular Christmas trees due to its dark green color, heavy density foliage, its soft and short needles, its solid branches, the Balsam fir can accommodate heavy ornaments.
With its distinctive and long lasting aroma, the Balsam fir tree makes it an all time favourite Christmas tree in North America and one of the most popular Christmas trees in the Caribbean Islands and countries of South America.
Plantations BL Christmas Trees is located in an area that produces some of the most beautiful Balsam fir Christmas trees grown in North America. We own and cultivate several hundred acres of plantations, often containing more than 100 acres of Balsam fir trees per plantation, which is a testament to the fertility and productivity of the area.

Countries – Regions Delivered
The Balsam Fir and Fraser Fir are delivered in the following regions and countries.
If your region or country is not listed below, we invite you to contact us, we are always open to develop new business opportunities.
United States
Alabama
Arkansas
Connecticut
DC
Delaware
Florida
Georgia
Illinois
Indiana
Iowa
Kentucky
Louisiana
Maine
Maryland
Massachusetts
Michigan
Minnesota
Mississippi
Missouri
New Hampshire
New Jersey
New York
North Carolina
Ohio
Rhodes Island
South Carolina
Tennessee
Texas
Vermont
Virgina
West Virgina
Wisconsin
Canada
Alberta
British Columbia
Manitoba
New Brunswick
Newfoundland and Labrador
Nova Scotia
Ontario
Prince edward island
Quebec
Saskatchewan
Caribbean
Anguilla
Antigua and Barbuda
Aruba
Bahamas
Barbados
British Virgin Island
Cayman Islands
Dominican Republic
Jamaica
Martinique
Netherlands Antilles
Puerto Rico
Saint Kitts and Nevis
Turks and Caicos Islands
U.S. Virgin Islands
Countries
Abu Dhabi
Brazil
Dubaï
Hong Kong
Japan
Mexico
Shangaï
Singapore
UAE
Venezuela