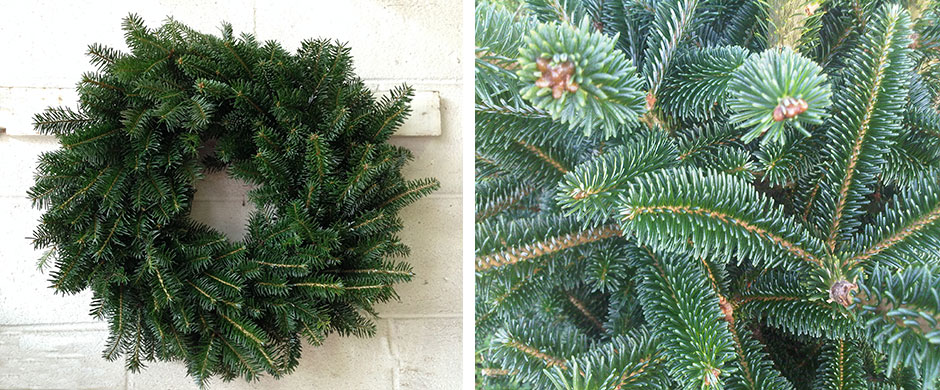 Fresh Christmas Wreaths
Plantations BL Christmas Trees provides wholesale fresh Christmas wreaths, brush and greeneries and will deliver almost anywhere in North America. Our wreaths are individually handmade, ensuring every single wreath will be of a deep dark green color from premium Balsam fir or Fraser fir tips, cut directly in our plantations.
Using fresh brush and working in a cold and tempered environment will ensure the wreaths meet your expectations, and that they provide an aromatic scent that will surely be an excellent reminder of the natural fresh scent of the forest.
Fresh Christmas wreaths are available in different sizes, double faced and heavy density. While the 22 inch diameter wreath is the most popular size (12 inch ring size), we also offer custom sized wreaths up to 72 inches in diameter, for special events or commercial use.
We welcome fundraising programs from Schools, Fire Departments, Community Service Organizations and all other Social Clubs & Organizations.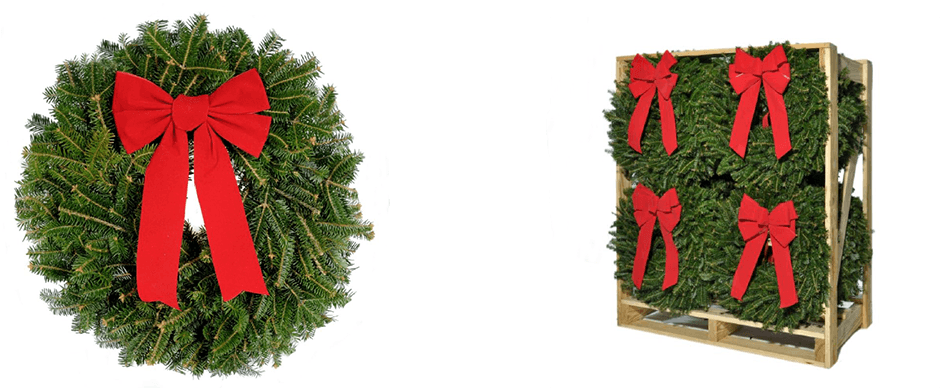 Brush & Greenery
We offer the traditional 50 pound bales of brush and greenery for our customers requesting fresh branches in Balsam fir tips or Fraser fir tips variety. All bales are weighed directly in the field, ensuring the weight is accurate. They can be used for wreath making, grave blankets, kissing balls or simply for hanging greens on doors.
We also offer bulk order of fresh cut brush and greenery for greenhouses that produces wreaths. Each tractor trailer is weighed before the loading process and after, knowing exactly how many pounds of fresh brush was loaded in each trailer. One full load is usually about 35'000 pounds. Please give us a call for more details.

Countries – Regions Delivered
Fresh Christmas wreaths, brush and greenery are delivered in the following regions and countries.
If your region or country is not listed below, we invite you to contact us, we are always open to develop new business opportunities.
United States
Alabama
Arkansas
Connecticut
DC
Delaware
Florida
Georgia
Illinois
Indiana
Iowa
Kentucky
Louisiana
Maine
Maryland
Massachusetts
Michigan
Minnesota
Mississippi
Missouri
New Hampshire
New Jersey
New York
North Carolina
Ohio
Rhodes Island
South Carolina
Tennessee
Texas
Vermont
Virgina
West Virgina
Wisconsin
Canada
Alberta
British Columbia
Manitoba
New Brunswick
Newfoundland and Labrador
Nova Scotia
Ontario
Prince edward island
Quebec
Saskatchewan