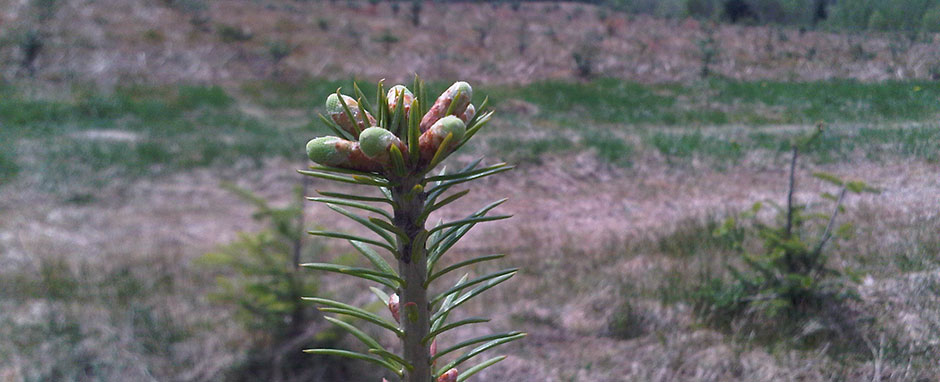 Farming
Choosing the most fertile land to grow Balsam fir and Fraser fir represents a major factor in the quality of the Christmas trees that will be harvested over the years. The soil has to be well drained, rich in organic matter and mineral, and the ph measurement must be perfect to provide beautiful deep green lush foliage to our trees. We cultivate approximately 1350 trees per acre of land, which amounts to many hundreds of acres exclusively dedicated to Christmas trees. When it comes to equipment at Plantations BL Christmas Trees, we choose the most efficient & environmentally friendly options on the market.

Planting & Maintaining
Every spring, we typically plant over 100,000 transplants. Every single little transplant is carefully inspected and selected by hand, individually, ensuring the selection of only the ones exhibiting very strong genetics. The transplants are then planted in rows in the field, about 5 feet between rows and between trees in the same row. We inspect all trees planted the previous spring and replace when required, to efficiently control the quality and amount of trees grown per acre of land. Every tree grown on our plantations is fertilized twice and sheared once per year. All trees grown on our family farm are base-pruned. This advanced growing technique has quite a few advantages: faster tree growth, more efficient cutting process, and a cleaner trunk for customers. Our plantations are well maintained from April to December every year, resting for the winter season.

Harvesting
It takes an average of eight years for a Christmas tree to be harvested. The harvesting process is quite impressive. Thousands of trees are cut per day, for about two weeks during harvest period in November. It takes an average of 5 days by the time the Christmas trees are cut, baled, sized, loaded and shipped to customers' locations. Fresh cut Christmas trees are delivered within a 5 day period, maximizing the freshness of our trees.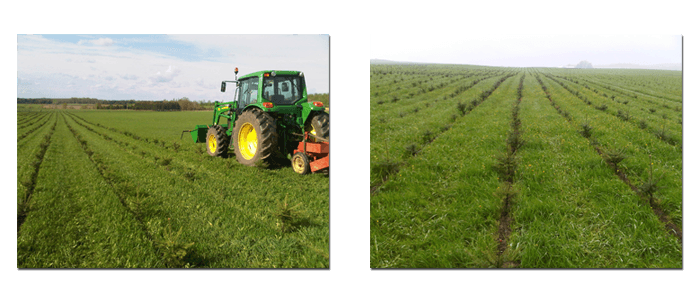 Baling
Every tree grown on our family farm is individually baled, maximizing freshness. Baling trees with roping is the most efficient method as it prevents damages to the trees, and makes handling easier for clients having to move trees around in their selling area. Wholesale Christmas trees are baled with colored roping; WHITE for BALSAM fir trees and BLUE for FRASER fir trees.

Wholesale Christmas Trees Sizing
Sizing of trees is another important aspect of growing Christmas trees. Our trees are measured directly on the baling machine, from the bottom of the stump to the top of the last crown once the tree is baled. Please note that the last part of the leader of the tree is not included in the measurement, making sure the sizing is accurate and generous. All trees are identified with a colored sizing tag or a spray paint dot on the stump as showed on the following chart:
See Sizing Chart – color code