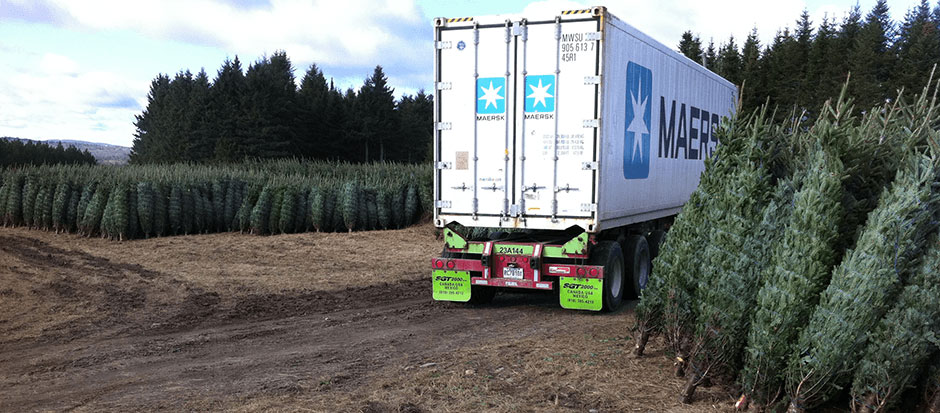 We have been shipping heavy density Christmas trees in refrigerated maritime containers varying in length from 20 feet to 40 feet to various countries in the Caribbean, Central & South America as well as overseas countries for more than 20 years.

Preparation
Immediately after harvesting the Christmas trees, they are baled in roping, carefully loaded one by one in maritime refrigerated containers and shipped in the shortest possible delay. We understand you work hard to keep your customers satisfied by providing them with the best quality and freshest Christmas trees available on the market. The scent of fresh cut natural cultivated Christmas trees ensures the quality and freshness of the trees for your customers.

Customs & Destinations
We take particular care in the selection of our trees and manage the entire exportation and shipping process from our plantations to the closest port of final destination, ensuring that trees arrive fresh, on time and in excellent condition.

Christmas Tree Containers
Our Balsam fir and Fraser fir plantations are located within range of highways, railroads and ports allowing us to optimize transit and delivery times avoiding shipping delays. Whether your order is transported by train, truck or refrigerated maritime containers, we ensure that there will not be any wasted space!

Every specific detail is expertly taken care of:
Phytosanitary inspections
Certificates of origin
Specific certification
Documentation
Maritime Bill of Lading
Any other required documents pertaining to importing country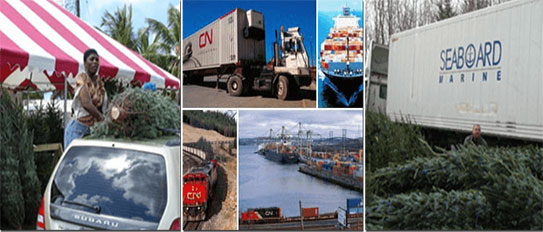 Countries – Regions Delivered
The Balsam Fir and Fraser Fir Christmas tree containers are exported in the following regions and countries.
If your region or country is not listed below, we invited you to contact us, we are always open to develop new business opportunities.
United States
Alabama
Arkansas
Connecticut
DC
Delaware
Florida
Georgia
Illinois
Indiana
Iowa
Kentucky
Louisiana
Maine
Maryland
Massachusetts
Michigan
Minnesota
Mississippi
Missouri
New Hampshire
New Jersey
New York
North Carolina
Ohio
Rhodes Island
South Carolina
Tennessee
Texas
Vermont
Virgina
West Virgina
Wisconsin
Canada
Alberta
British Columbia
Manitoba
New Brunswick
Newfoundland and Labrador
Nova Scotia
Ontario
Prince edward island
Quebec
Saskatchewan
Caribbean
Anguilla
Antigua and Barbuda
Aruba
Bahamas
Barbados
British Virgin Island
Cayman Islands
Dominican Republic
Jamaica
Martinique
Netherlands Antilles
Puerto Rico
Saint Kitts and Nevis
Turks and Caicos Islands
U.S. Virgin Islands
Countries
Abu Dhabi
Brazil
Dubaï
Hong Kong
Japan
Mexico
Russia
Shangaï
Singapore
UAE
Venezuela